Video Hardware
Dead Beef Productions relies on all digital video equipment for shooting and editing.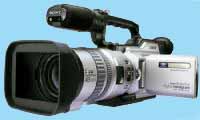 We use a 3CCD Sony DCR-VX2000 for principal shooting, and other Mini-DV cameras for multiple camera shoots.

Audio Hardware
We use a Sennheiser MKE-300 microphone for most audio duties whenever possible. We also have wireless lapel mics for interviews and non-ideal shooting conditions.

Non-Linear Editing System:
Video editing is done with Adobe Premier CS on a P4 3.0GHz system. Storage is comprised of an external high speed USB drive with 200GB of space, expandable to anything we need.

Delivered formats
We can output finished video productions to the following hardware formats:

DVD (DVD-R/RW & DVD+R/RW)
VCD & SVCD (CD-R/RW)
VHS
MiniDV
Hi8

Our DVD's are authored with Adobe Encore for commercial quality - no Nero templates here. We can do multiple languages and audio tracks, subtitles, and other advanced features.

Online formats
We can encode video into nearly any computer codec format you desire. Here is a small assortment of codecs we currently use:

WMV - Windows Media Video 9

DivX - Free MPEG4 codec - Version 5.2 works best, 6 still has too many problems to be used right now

XviD - Free/Open source MPEG4 codec

NSF - Nullsoft Streaming Format - VP3 video and MP3 audio codecs in the Nullsoft container format for streaming via Shoutcast

Non-free codecs can be used, client pays for all licensing costs up front.

This site is © Copyright Nathan Heald 2004-2005, All Rights Reserved.
Free web templates